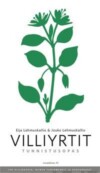 Wild Herbs Identification Guide – Eija Lehmuskallio & Jouko Lehmuskallio
$19,92
This guide offers an insightful journey into the world of wild herbs, blending expertise from nature enthusiasts Eija and Jouko Lehmuskallio with culinary insights from top chef Sami Tallberg. Happy and safe herb hunting!
Availability: 1 in stock
Product Description
This book offers a unique experience of identifying and collecting wild herbs, emphasizing their potent health benefits and sophisticated aromas. It includes detailed instructions for plant identification and their uses, featuring flavor and texture profiles from top chef Sami Tallberg. The guide, a culmination of Eija and Jouko Lehmuskallio's work with nature, also advises on which plant parts to utilize. Additional information can be found on luontoportti.fi and samitallberg.com. Enjoy a safe and fulfilling journey into wild herb exploration!
Tech Specs
Author: Eija Lehmuskallio & Jouko Lehmuskallio
Photographer: Jouko Lehmuskallio
Language: Finnish
Weight: 290 grams
Published: 2023-04-17
Publisher: readme.fi
Number of pages: 152