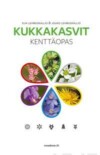 Kukkakasvit Kenttäopas – Eija Lehmuskallio & Jouko Lehmuskallio
$31,35
"Flowering Plants – Field Guide" is a comprehensive resource by Eija and Jouko Lehmuskallio for identifying over 700 wild blooming plants, featuring nearly 2,000 pictures. Ideal for nature lovers, it simplifies species identification based on flower characteristics and is complemented by the multilingual online service, LuontoPortti.
Availability: 3 in stock
Product Description
The "Flowering Plants – Field Guide" is an extensive handbook for identifying wild plants, particularly in bloom. This easy-to-use guide aids in distinguishing species based on flower color, shape, and size, making it a valuable resource for nature enthusiasts. The book features over 700 wild plants, with nearly 2,000 photographs to assist identification.
Authors Eija and Jouko Lehmuskallio, known for their online service LuontoPortti, bring decades of experience in making nature accessible. Since 2008, their multilingual website has helped millions identify and learn about various species. The duo, recipients of the State Award for Information Disclosure and the Finnish Quality Innovation Award, have also created other books, e-guides, TV programs, and courses related to nature and wild herbs.
Tech Specs
Author: Eija Lehmuskallio & Jouko Lehmuskallio
Language: Finnish
Weight: 916 grams
Published: 2022-07-04
Publisher: readme.fi
Number of pages: 512