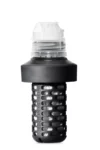 Katadyn EZ-Clean Membrane Filter Cartridge – Black Edition
$47,07
Compatible with Katadyn BeFree Water Filtration System 1.0L (Black Edition).
Availability: 2 in stock
Product Description
EZ-Clean Membrane™ Replacement Filter Cartridge: Designed for the Katadyn BeFree Water Filtration System 1.0L (Black Edition).
Tech Specs
Water source: Clear Water
Output (L/min): 2
Treated Quantity (L): 1000
Filter material: Hollowfibre
Katadyn
Katadyn is a global market leader based in Switzerland, specializing in mobile and customized water treatment systems and products designed for outdoor and marine use. Their mission, "Making water drinking water," drives the development and manufacturing of portable water filters, desalinators, and disinfectants. Katadyn products make clean drinking water accessible in various settings, including outdoor adventures, marine environments, emergency preparedness, humanitarian efforts, tactical missions, and industrial applications.
With its headquarters still located in Switzerland, Katadyn upholds a commitment to producing products that meet rigorous standards of quality, reliability, and user-friendliness. As a result, numerous international aid organizations and governments trust Katadyn for essential survival and life-saving solutions.