TSL 217 Camo Snow Shoes
179 €
The technical and comfortable snowshoe for little hikers. Technically sophisticated and offering great traction, they are simple and comfortable to use.
Availability: 3 in stock
Product Description
TSL 217 Camo Snow Shoes
The 217 CAMO are very popular in powder snow due to their increased flotation. They are simple and comfortable to use, despite being technically sophisticated and providing excellent traction. Size is easily remembered. Tightening the heel block with the instep strap is safe and dependable. For those who enjoy wide open spaces.
Deck
Hourglass shape: allows for a more natural stride when walking.
Binding
Lock Adjustment: This simple adjustment remembers your shoe size for all of your snowshoeing adventures.
Tightening via ratchet system for a secure and quick fit.
Lateral Adjust: They provide more comfort with their side adjustment system, which accepts any width of shoe and provides maximum foot surround.
System for Sound and Shock Absorption (SSAS).
Heel lift: makes hiking easier on long climbs and reduces calf muscle fatigue.
Heel block : Only for transporting or storing snowshoes.
Traction
Front teeth for maximum traction on slippery surfaces.
6 interchangeable steel crampons
Tech Specs
TECHNOLOGIES
Lateral Adjust
Lock Adjustment
Hourglass Shape
Sound and Shock Absorbing System – TSL patent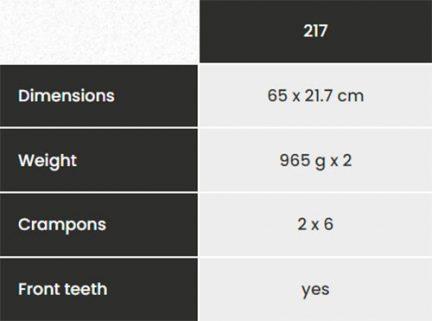 Size Charts