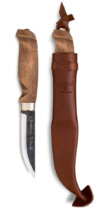 Marttiini Lumberjack Carbon Knife
$29,79
A superb all-purpose knife. The carbon steel blade is ideal for carving and is simple to re-sharpen to its original sharpness.
Out of stock
Add to Wishlist
Product Description
Marttiini Lumberjack Carbon Knife
Based on one of Marttiini's most popular knives, the Lynx Lumberjack Carbon, this version is made of easy-to-care-for stainless steel. Remember to take good care of your carbon steel knife by drying it well after each use and oiling it on a regular basis with unsalted oil. This will ensure that your knife will serve you consistently from year to year. The handle is made of birch that has been stained. Its surface is gently textured, allowing you to quickly obtain a strong, secure hold on the knife.
Tech Specs
Length of blade: 11 cm
Total length: 22 cm
Blade material: stainless steel
Handle material: birch, stained
Sheath material: leather