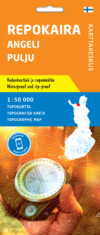 Karttakeskus Repokaira Angeli Pulju 1:50000
$21,92
The topo map is the best choice for hiking, fishing, and hunting in areas of Lapland where no outdoor maps have been printed and you've had to depend on many regular terrain maps to get around.
Availability: 7 in stock
Product Description
Karttakeskus Repokaira Angeli Pulju 1:50000
Topocaps are waterproof and tear-resistant foldable terrain maps of Finland. The maps are resistant to wear and tear from repeated usage and folding. The data content matches to traditional paper terrain maps, and the underlying material is the National Land Survey's terrain database.
The topo map distribution in magazines is suited to the demands of hikers. In addition, symbols indicate deserted and reserved areas on the maps, and the map content extends to the Norwegian and Swedish sides of the national border.
Repokaira Angeli Pulju 1:50 000 is a two-sided map magazine that includes the western half of Lemmenjoki National Park in Inari as well as a part of the Pulju wilderness area on the Kittilä and Enontekiö side. The map displays the Norwegian border, the tops of the Vaskojoki, Lemmenjoki, Ivalojoki, and Repojoki rivers, as well as the communities of Angeli, Pulju, and Lisma. The wilderness and little-traveled area is a realm of experienced hikers and reindeer herders.